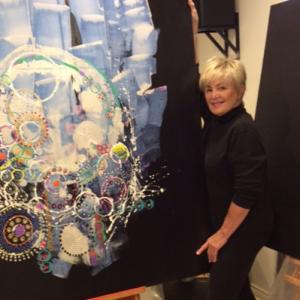 Donna Wise
Donna Wise is a Toronto based artist ,who has shown across Canada & the US.Her acrylic paintings are boldly coloured compositions of patterns,patterns & textures . She has works in many corporate collections including the Four Seasons,Baycrest,Equitable Trust among others.Her art can be found in private collections in Toronto,Montreal,Miami & Tel Aviv. By invitation she has participated in art Auctions for The Rom, The Canadian Opera Company,The National Ballet & Baycrest Hospital.Her paintings have been in the Board Room at Queens Park,& the lobby of The Elgin Theatre. Designer for one of Baycrests Annual Fundraiser,Dancing With The Stars.Wiserecieved an Individual Grant from the Ontario Arts Council in 1985.She is a proud elected member of The Society of Canadian Artists since 1985. More information can be found on her website:www.Donnawiseart.com
MEDIUM:Abstract Expressionism is the style of painting that I am most comfortable with.It appealed to me from the onset because of the way you could use colour & design to stimulate reactions and create emotions.I use heavy acrylic paint and often add polymer to thicken & add to the texture of the overlapping patterns,These paintings are bold colour saturated canvases full of fluid energy and are a confidant body of work.
EXHIBITIONS: 2018 Out of This World Juried Exhibition The Propeller Gallery in Toronto. 2018 Summer Collections,The Sybil&Frank Gallery in Prince Edward County 2018. What is The Colour Of Red Juried Exhibition at The Propeller Gallery in Toronto 2017 Flights Of Fancy The Urban Gallery,Solo Show In Toronto 2017 Winter Show The Sybil&Frank Gallery in Prince Edward County 2016 1st Dibs Through Adamar Gallery Miami Florida 2016 Fall Exhibition The Sybil&Frank Gallery in Prince Edward County 2016 FallCatalogue Juried Show The Elaine Fleck Gallery Nuit Blanche Toronto 2016 Summer Collections Juried Show The Glenhyrst Gallery Of Brant Brantford 1987 Montreal Museum Of Fine Art Rental Program Montreal 1987 Art Works International Solo Show Toronto 1986 Bonnie Kagen Gallery Solo Show Toronto 1985-1990 The Shayne Gallery Solo shows Montreal 1984 McDowell Gallery Group Show Toronto
Publications 2018 September Issue Voyzx Fine Art Magazine "Unexpected Discovery 3 Paintings ,Numbers in Music & Poetry,Artic Reflections.Frosted Steel &FireBC. 2016. The Elaine Fleck Fall Catalogue Of Artists Toronto 1985 Sotheby's Catalogue for the ROM "Art For The Birds art auction Toronto 1985 The Encyclopedia Of Living Artists US.
Memberships
Donna is also a member of CARFAC, Toronto Western Hospital Fine Art Committee, Elected Member of The Society of Canadian Artists since 1985, and the International Association of Professional Artists and Women's Art Association Of Canada and Federation of Canadian Artists
---
Which piece of art you've created is your favourite, and why?
They all hold a special place as they are a history of where I have come from
Describe the person your work appeals to in 3 words
Curious, risky enchanted
Favourite medium
Acrylic with added polymer
Everyone should know about
My love for dogs great art and music traveling the world
What artists do you admire right now?
Helen Frankenthaler,Georgia O'Keefe,Paul Jenkins,JackBush
Why is it important for people to have art in their home or life?
Displays ones sense of style and may add drama to the walls
What do you mean, "try"?
Try-before-you-buy with a 3 month rental. 100% of your rental payments go towards the purchase (interest free). Message the artist directly, and start the conversation.
---
Art made (truly) affordable
We make it easy for you to try art with smart payment plans and try-before-you-buy models.
See How It Works
---
You're covered.
Artwork protection is included on all art rentals up to $5K. Our Customer Care team is always here to help.
Contact Us
---
Unlock Trade Access
For industries including interior design, film/TV production, & real estate staging: rent original pieces that fit with your project vision, budget and timeline.
Apply for Trade Access
---
1% from every transaction goes towards a Canadian arts nonprofit.